I want to touch the world of VR but I don't know what to start with
I want to see a virtual market or a rumored virtual event
But I can't play VR games because I don't have the necessary VR equipment …
This article is for people like this.
What is VRChat? What kind of game? Please read the following article first.
First of all, let me tell you the important thing.
No VR equipment required for VRChat! You can play with a computer.
Some people are often misunderstood, but some VR games, especially games like VRChat with strong SNS elements, can be started without a VR device with a personal computer.
At VR Chat, not only large-scale events such as virtual markets and comic V-ket, but also small-scale user-centered events such as DJ events and gatherings are held almost every day.
It is no exaggeration to say that it is the center of the VR area, which has become a hot topic these days, so why not try touching that world from your desktop first?
In this article, I will explain how to get started with VRChat from the installation of STEAM.
Article content
How to get started with VRChat
Initial settings when entering VRChat
How to take the first step in VRChat
How to get started with VRChat
VRChat is a game distributed on the STEAM platform, so prepare by following the steps below.
STEAM client installation
Register your STEAM account
Download VRChat
Registering a VRChat account
If you already have a STEAM client or account, you can download VRChat.
Download STEAM client
First, go to the official STEAM page and install STEAM.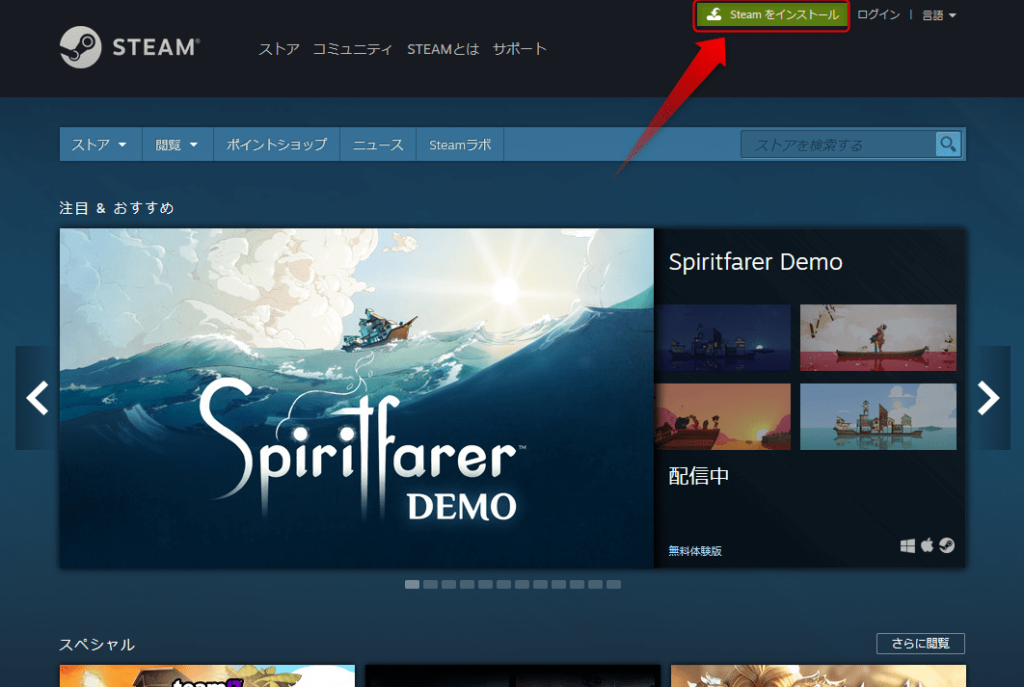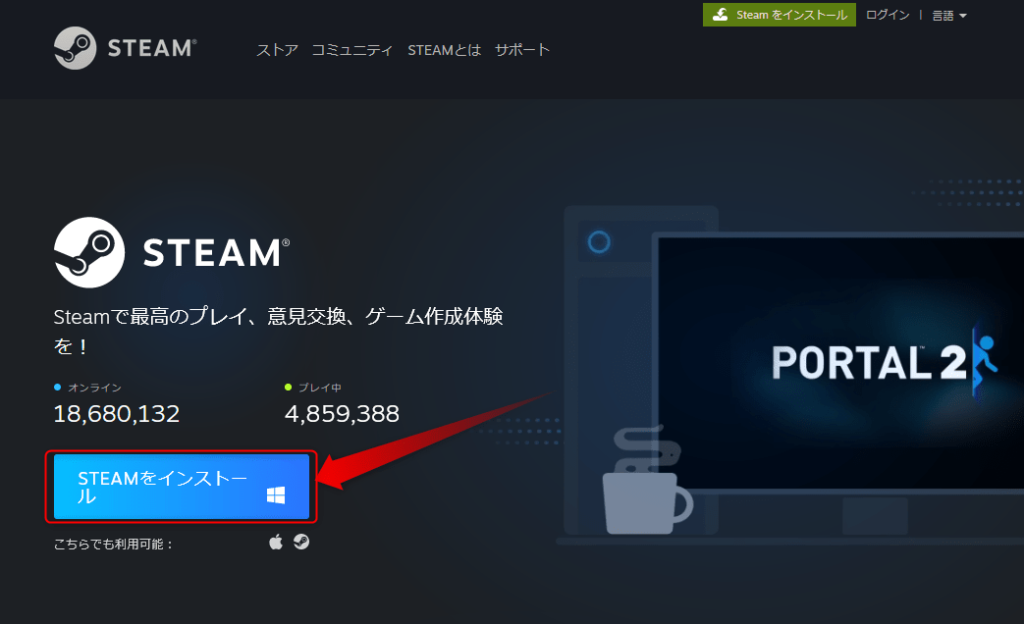 Click "Install STEAM" to download "SteamSetup.exe", then launch it to install the STEAM client.
Register your STEAM account
Next, register for a STEAM account.
Go to the STEAM official page again and click "Login" in the upper right corner.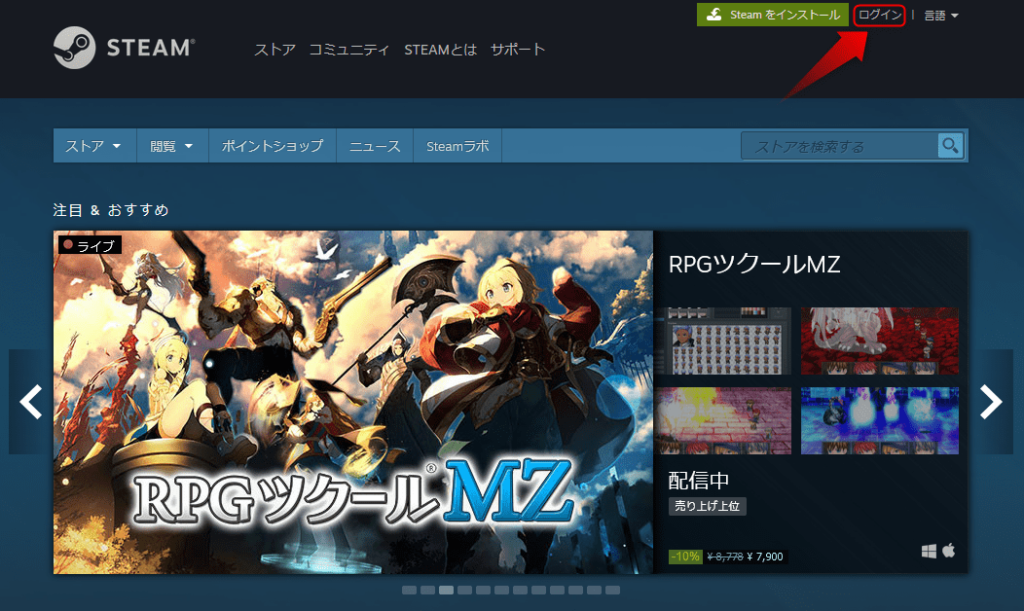 Click "Register for Steam" on the displayed page, and enter your e-mail address etc. on the next page to register your Steam account.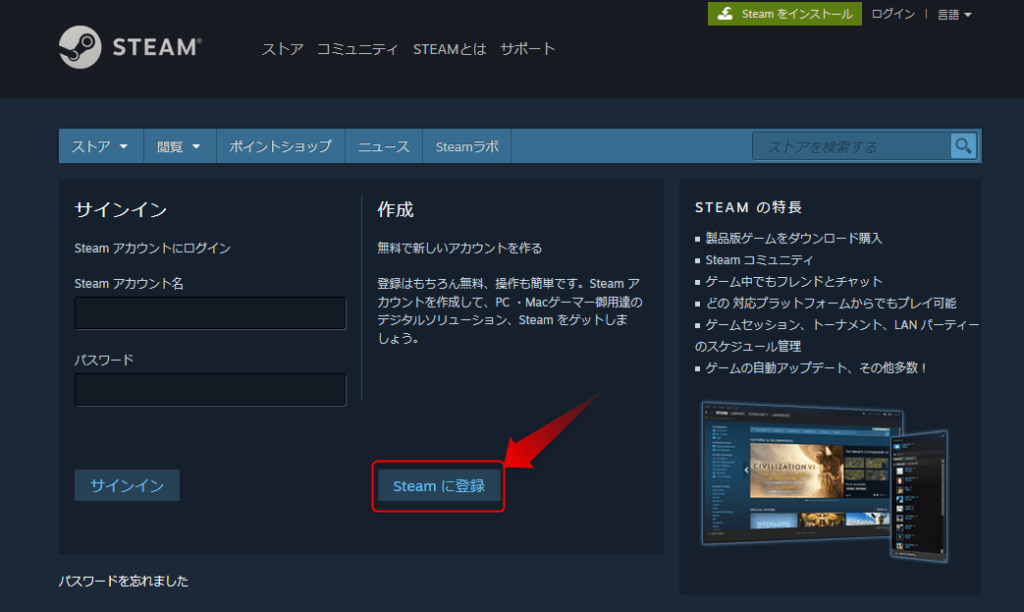 Download VRChat
Launch the installed STEAM client and enter "VRChat" in "Search Store" in the upper right corner.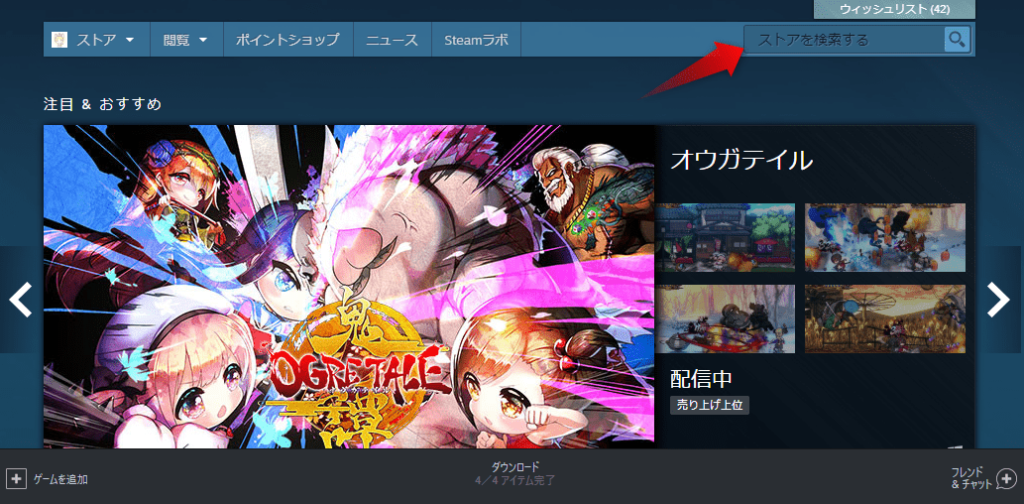 When you reach the VRChat page, press the "Play Game" button at the bottom to download VRChat.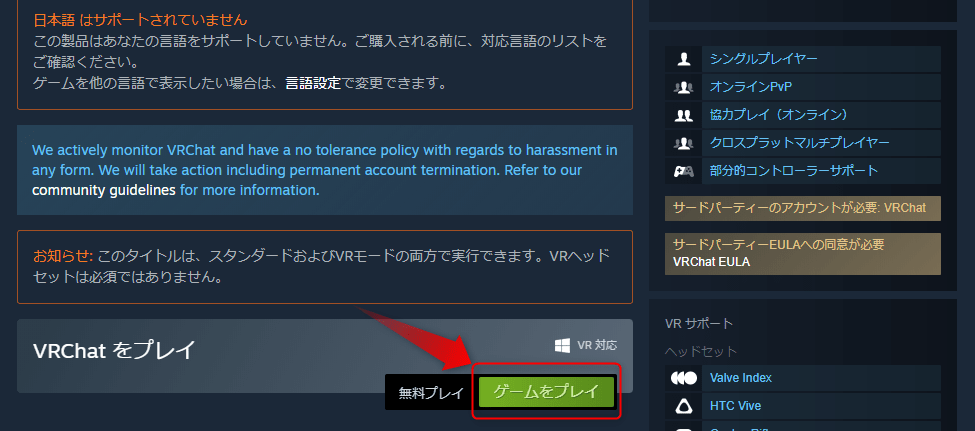 Register a VRChat account
Register for an account while downloading VRChat.
You can use your Steam account, but you'll need an official VRChat account to play deeper, such as uploading your own avatar.
If you try to use your VRChat account later, it will be treated as a new account and your friends and world list registered up to that point will be deleted.
There is also a way to transfer from a Steam account to a VRChat account, but it will take some time, so it is recommended to get an official VRChat account from the beginning.
First, go to the official page of VRChat.
Press the "LOG IN" button on the upper right to bring up the login screen.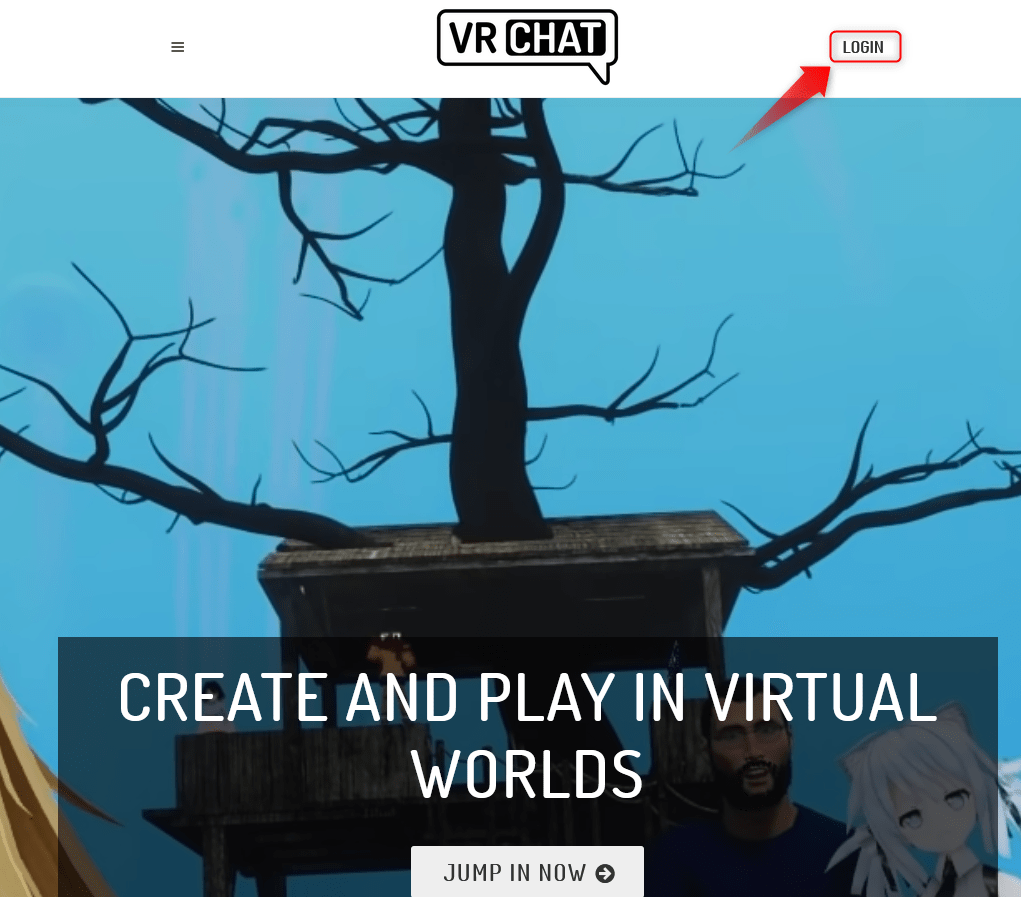 Click "Registration" in the page information to switch to the account registration screen, enter the required information, and click "Create Account".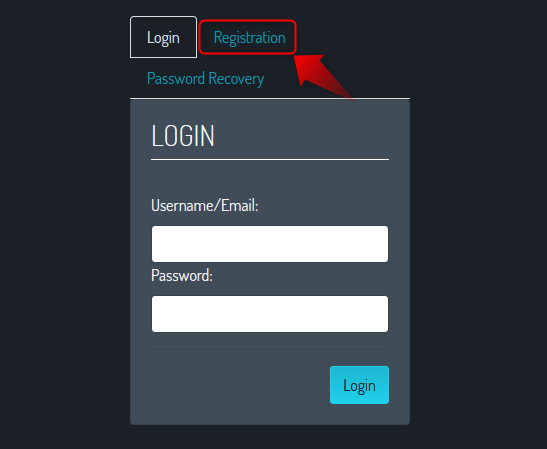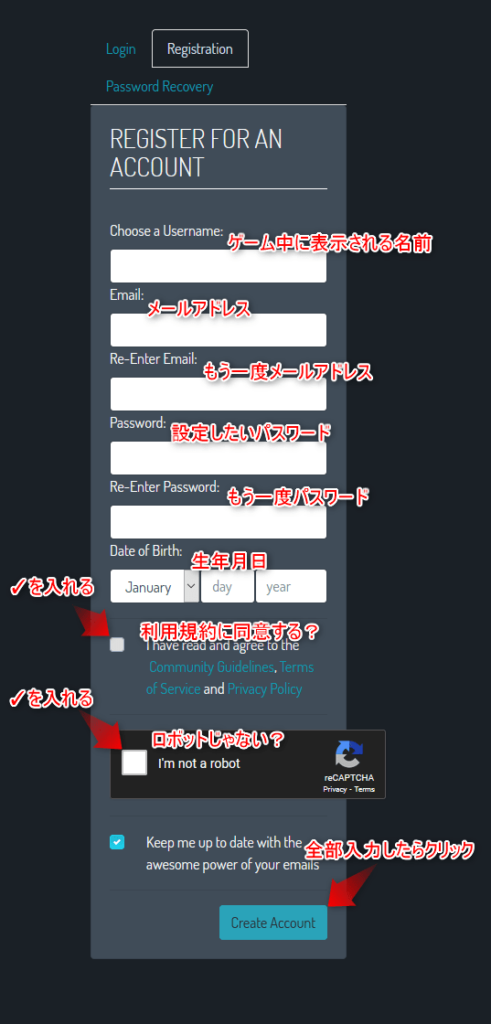 Now you are ready to play VRChat.
VRChat initial settings
Now let's start VRChat.
Click "Library" at the top of the STEAM client to see a list of your downloaded games.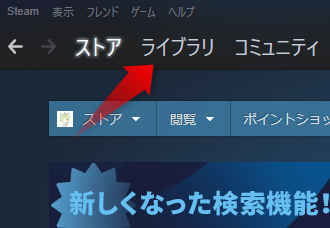 Since VRChat is included in this, select "Play" to start it.
Alternatively, double-click the VRChat icon created on your desktop to launch it.
When you start VRChat, the account input screen will appear, so select "VRChat" and enter the account name and password you created on the VRChat official page earlier.
(If you didn't create a VRChat account, click Steam and enter your Steam account and password)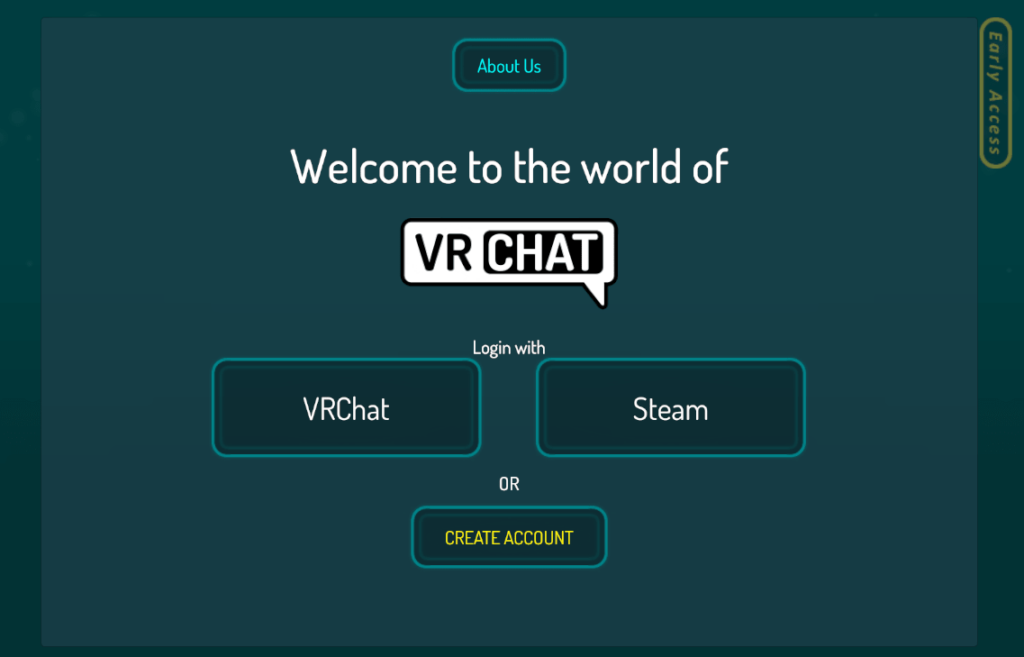 A simple tutorial will start, so please check how to operate it. I will also briefly describe it here.
Use the [W] [A] [S] [D] keys to move forward / backward / left / right
Jump with the [Space] key
Crouch with the [C] key (move while crouching)
Press the [Z] key to lie down (move while lying down / advance crawling)
Actions such as grabbing an object with [left click] / pressing a button
[Right click] to release the object
Screenshot with [F12] key
Use the [Shift] + [F1] to [F8] keys to change facial expressions and hand shapes (registered avatars only)
Open the menu with the [ESC] key

After the tutorial is over, let's do the initial settings.
Press the [ESC] key to open the menu.
Keep in mind that the microphone button at the bottom left allows you to turn your microphone on and off.
Click "Settings" in the middle right column.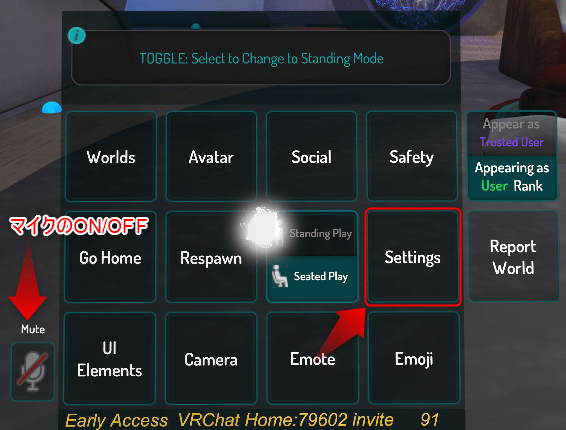 We recommend that you uncheck "PERSONAL SPACE" when you enter the setting screen.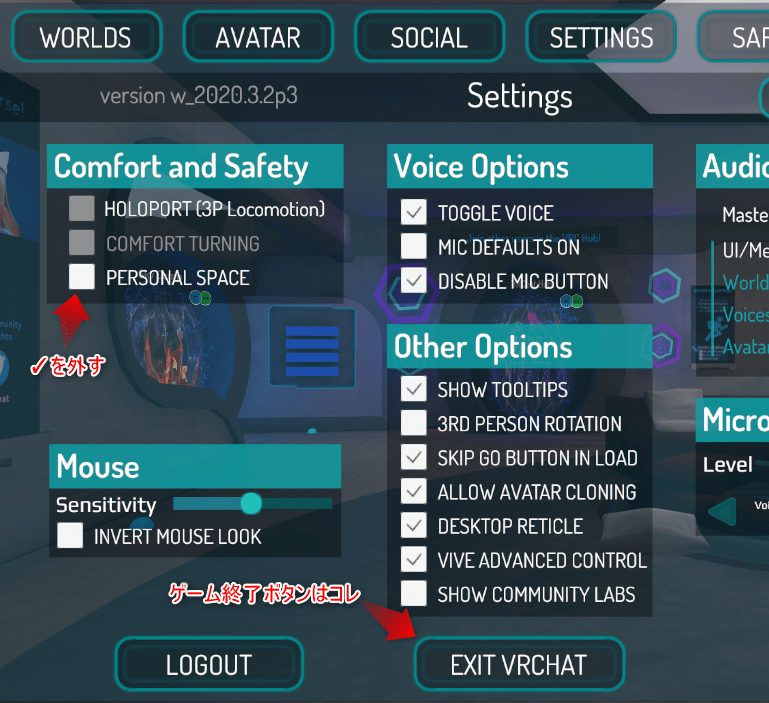 This is a function that "when a person approaches within a certain distance, the display of that person is automatically turned off".
Many people communicate with each other relatively close, but if this check is on, communication errors such as the other party becoming invisible occur frequently, so it is recommended to uncheck it.

To finish the game, press "EXIT VR CHAT" or close the VRChat window and you're good to go.
The first step in VRChat
Once you've set it up, it's time to go to different worlds and take the courage to communicate with others.
In VRChat, various worlds are uploaded to the server by the player, and the player is free to play in that world.
You can go around the beautiful world, play in a world that looks interesting, or visit an event venue in the past.
You can enter the world by pressing the [ESC] key, selecting "Worlds" from the menu, selecting the world you want to visit from the list, and pressing the "GO" button.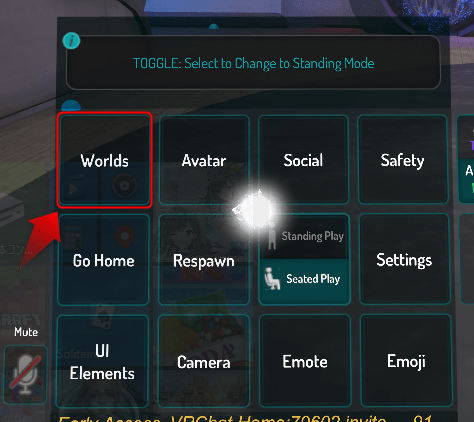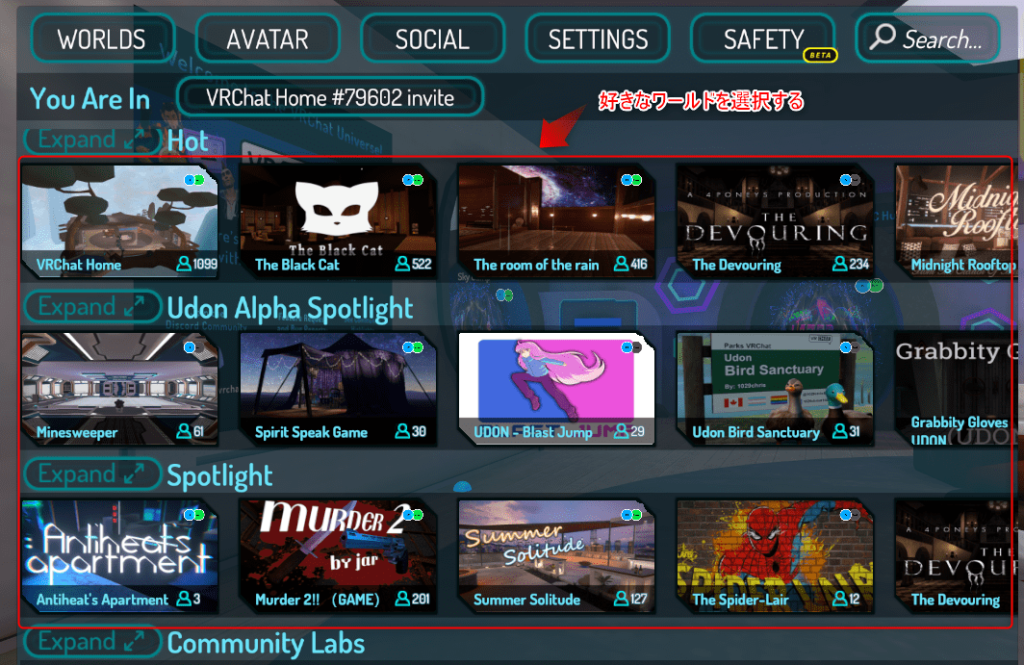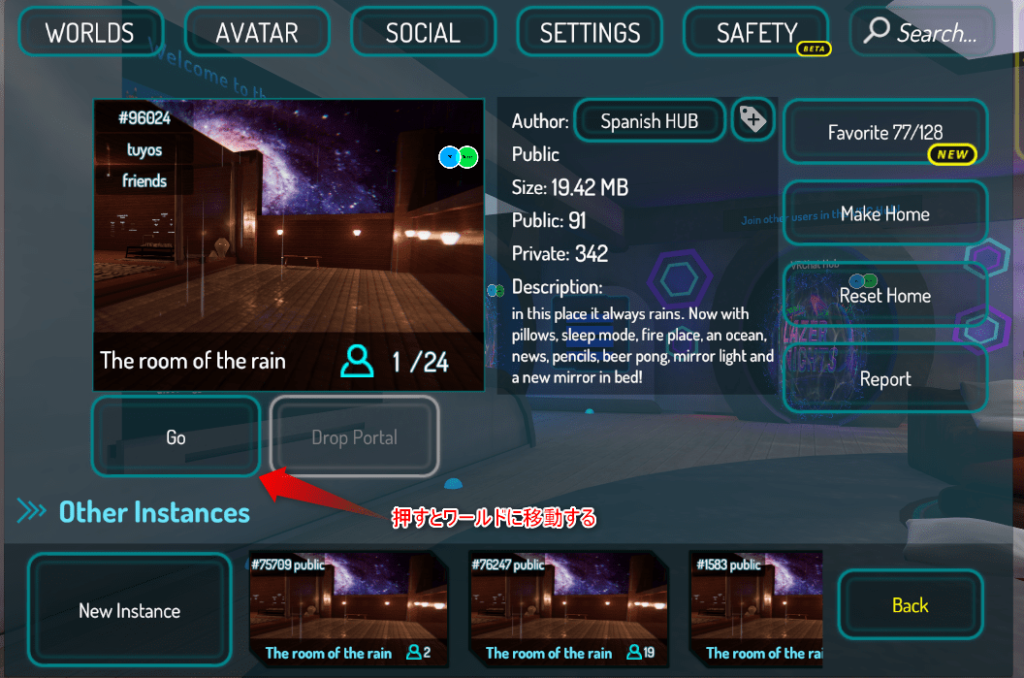 Since VRChat is a game distributed from overseas, the ratio of Japanese players is a little low.
And since Japanese people often gather in rooms where only friends can enter, it can be difficult to meet Japanese people if you just move around the world when you are a beginner.
Therefore, I would like to introduce a world where there are many Japanese people.
[JP] Tutorial World
CONNECT STATION
すずらん集会場 Suzuran Shukaijou
ポピー横丁 -Poppy Street-
You can also search the world.
Press "Worlds" from the [ESC] key, then press "Search …" in the upper right.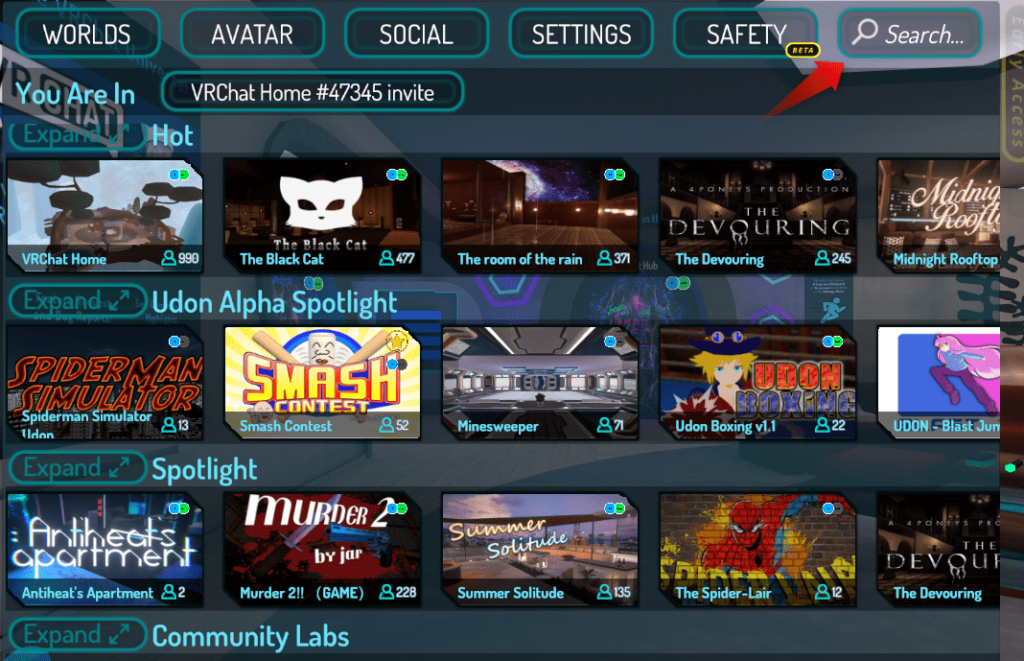 The keyboard screen will appear, so enter the world name introduced above.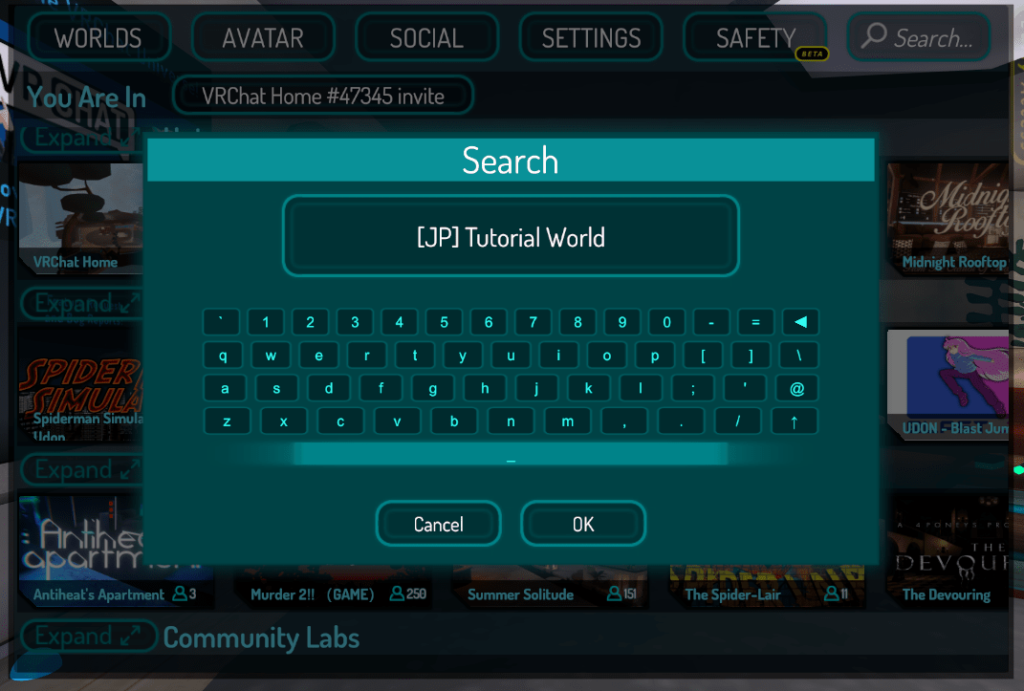 If you press "OK", the world that was caught in the search will appear, so select the world and instance (image like a room) where people are and press the "GO" button.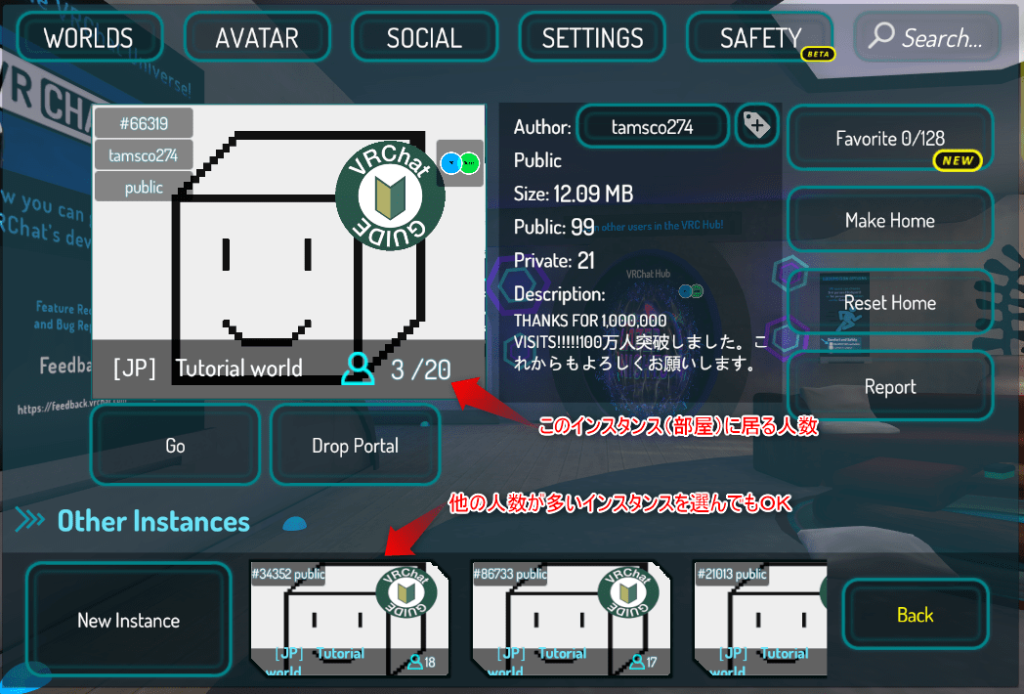 At the end
If you are a beginner, we recommend that you first visit "[JP] Tutorial World".
If the timing is right, such as on a holiday night, volunteers will guide you through the world of VRChat, and various tutorials are written in the world, so it is worth reading.
I hope you read this article and have a good VR life.